for KS3 and KS4 performed in your school
* NOW TAKING BOOKINGS FOR SPRING and SUMER TERM 2020 *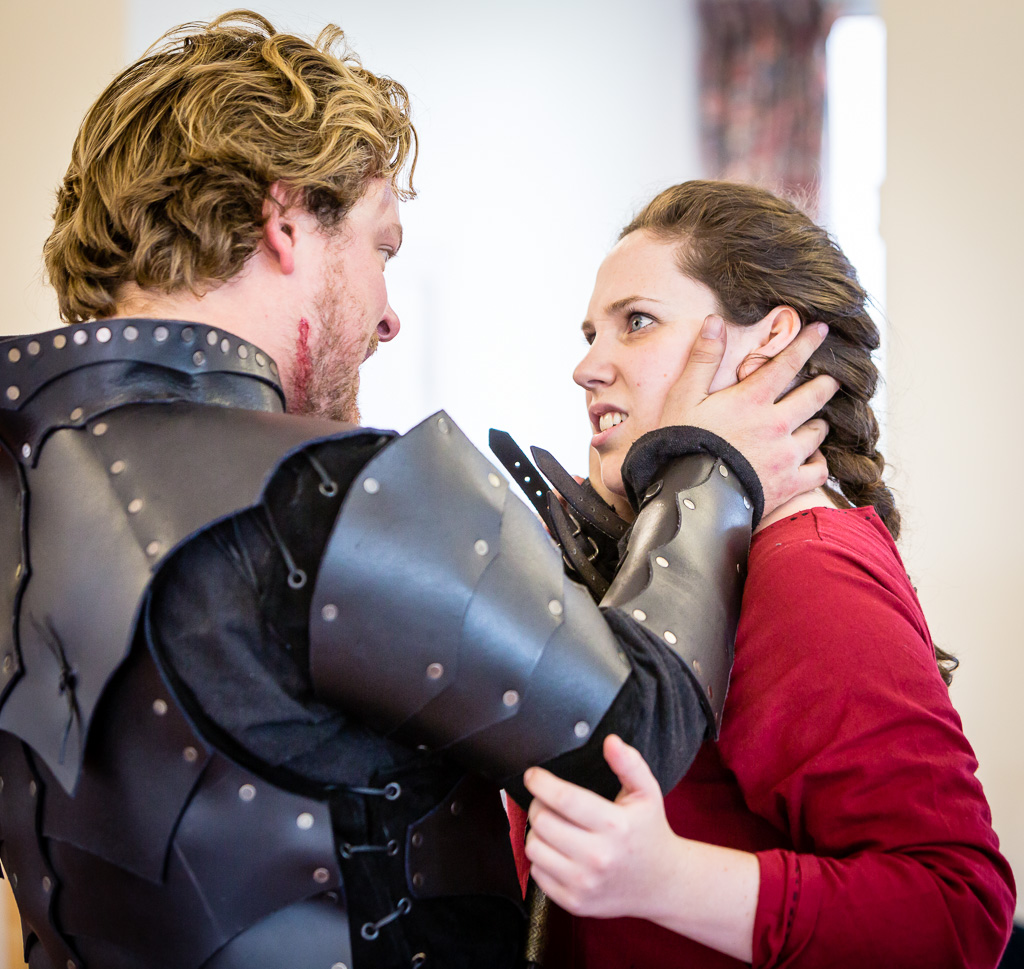 "All the teachers agree this was the best performance and drama experience which we have ever seen. I would recommend this company to all schools."
Fort Pitt Grammar School, Chatham
Four Young Shakespeare Company actors visit your school with a thought- provoking, entertaining and insightful exploration of Shakespeare in performance. We combine clear, accessible and well-paced acting with challenging yet inclusive workshop activities. The emphasis throughout is on the importance of choice and interpretation in the process of putting on a play. Taking suggestions from the students, our skilled actors explore the choices of the rehearsal process and allow the students to see their ideas put into practice, offering new insights into the text in performance.
To ensure that our presentation is pitched as accurately as possible to the needs of your students we offer a choice of two different formats.
Option A – Workshop and Performance
An informative and thought-provoking interactive workshop followed by a fully-staged hour long adaptation of the play including all the main characters and scenes. The Young Shakespeare Company has an outstanding reputation for clear and accessible interpretations of Shakespeare in which the vitality of Shakespeare's words is complemented by bold staging and strong characterisation to bring the play alive for a new generation of theatre-goers.
Option B – Interactive Workshop Presentation
This 90 minute interactive presentation is a fast- moving session packed with activities and is an ideal introduction to Shakespeare in performance. With plenty of humour and audience participation, the actors explore issues of staging, characterisation and motivation, trying out suggestions from the students and building towards performance level presentations of Act One Scene Seven (Lady Macbeth persuading Macbeth) and Act Two Scene Three (the discovery of the murder). Students are encouraged to assume the roles of director, designer and actor in the decision-making process and to see their ideas put into practice. The presentation also includes a very popular demonstration of the techniques of stage fighting. The pace and the variety of content makes this presentation a particularly accessible learning experience for mixed ability groups and can be pitched to suit the knowledge your students have of the play at the time of our visit.
How much does it cost?
The cost for one performance is £700 + VAT. The cost for two performances is £1200 + VAT.
When is the production next available?
"Macbeth" tours into secondary schools between February and May every year
Which age group is this devised for?
Our actors can pitch the performance to suit students from Year Seven to Year Eleven.
Do the students need to have already studied the play?
Our actors can adjust the educational content to suit the students' current working knowledge of the play.
How many students can take part?
Up to a maximum of 180. Many schools prefer to book two performances on the same day so that we can work with smaller groups.
Where does the performance take place?
We prefer to perform on the floor of your school hall with the audience seated on four sides. If you have fixed raked seating we are also able to perform end on
Are your actors all DBS checked?
Yes.
"Fantastic educational enrichment."
Hockerill College, Bishops Stortford
"Another outrageously entertaining and dynamic performance. Crystal clear, brilliant and thought-provoking. We loved it."
Clevedon Community School, Somerset
"Fabulous. I enjoyed it thoroughly. The workshop helped me really get inside the minds of the characters, plus actually seeing it performed really put my head straight. I really enjoyed learning in a different way. I loved it and never wanted it to end."
Pupil, Fernwood School, Nottingham
"This was such a rich and valuable experience for our students, they were absolutely enthralled by it from start to finish. A huge thank you for fostering a love of the play with our students. We are all still smiling now after the experience, I cannot praise you enough! We will definitely be wanting to invite you to return again next year." Thomas Bennett Community College, West Sussex
"A total success. Highly recommended to other schools."
Skipton Girls High School, North Yorkshire
"The quality of the actors' performances – and their interaction with the students – was outstanding and wholly inspiring. Superb."
George Eliot School, Warwickshire
"A powerful and engaging performance which had the students spellbound from start to finish."
Quilley School, Hampshire
"The YSC were absolutely fantastic. What an intelligent show – in all respects – and what brilliant acting. Such a privilege."
Seaford College, West Sussex